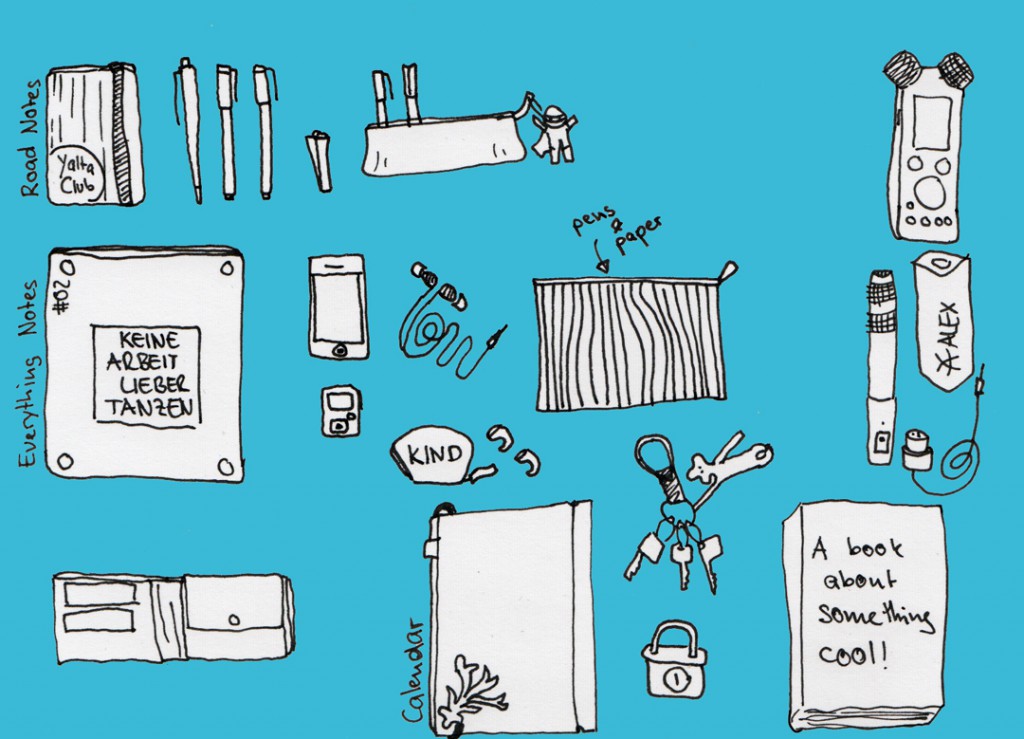 So eine Woche Urlaub entspannt ungemein. Noch bin ich mir nicht hunderprozentig sicher, dass es gut war in dem Haus Internet gehabt zu haben. Aber eigentlich habe ich auch die Zeit im Netz sehr genossen. So ganz ohne Arbeit und frei schwimmend war das sehr schön. Aber ich habe erst einmal genug vom kleinen iPhone Bildschirm.
Wie auch immer. Es gibt Sache zu hören und zu lesen und Konzerte zu besuchen, also folgen sie mir!
ACHTUNG! Am 18.4. ist sowohl Comicinvasion als auch Record Store Day. Also Prioritäten schaffen!
Die Sendung von letzter Woche war etwas durcheinander. Hier ist sie trotzdem.

Die Flaming Tsunamis haben nach einer Ewigkeit ihr letztes Album zum Stream bereit gestellt. Es ist eine Tour-de-Force mit Trompeten und Geschrei. Irgendwie anziehend. Mir fehlt nur die Klarheit, die in der "Zombies vs. Robots EP" vorherrschte. Nicht umsonst weckt mich Opus jeden Morgen seid mindestens einem Jahr.
Das Terrible Feelings Album ist offiziell draußen und sehr gut. Außerdem haben ist der Gulfer + Del Paxton Split erschienen, vier Songs bester Musik. Ich durfte die Gulfer Jungs mal interviewen. Coolste Typen.
Während ihr die Musik hört könntet ihr interessante Dinge lesen. So mach ich das immer. Zum Beispiel ein Interview mit Warren Ellis über das Internet und die Zukunft des Internet der Dinge.
"What happens when the people who run your front door for you suddenly shut down overnight? What happens when the houselights get bought out by Amazon? And you have to install a new app to heat your home because Apple owns that business now? What happened to your life that you outsourced the operation of your front door to a bunch of kids in the Mission District who pay $15 for artisanal toast in the morning?"
Dann hat da jemand $25 für eine imaginäre Freundin bezahlt und sich vielleicht verliebt. Die Sache an dieser Stelle ist die hier:
"They're using it just to have a good friend, someone who will listen to you, or someone to practice dating or flirting online, or just having a pick-me-up, someone to vent to."
Und da wird die Sache wirklich interessant.
Louis C. K. hat über seine Anfänge in New York erzählt.
Plus, that's a pretty high id factor job to every f—ing night be like, "Good evening, ladies and gentlemen of the whole country. Here's what happened to you today and here are the famous people and I'm going to be the filter you're going to see it all through." Also, because I worked for Conan, I know how difficult the job is, even as a writer, and I never thirsted after it. I never thought, "Oh geez, I want that."
Außerdem hörbar und super spannend, und lustig, war der Comedy Button #172. Da war Mike Drucker zu Gast und der ist Schreiberling bei Jimmy Fallon und das ist schon ein cooler und anstrengender Job. Wahrscheinlich genau so wie C.K. ihn beschreibt, und als Schreiberling sicherlich nicht einfacher.
Also, Konzerte. Diese Woche folgende:
15.04. I have a Tribe @ FluxBau
15.04. Junius & City of Ships @ Magnet
16.04. Will Butler @ Franzz Club
16.04. The Districts @ Lido
18.04. Racing Glaciers @ Lido
I have a Tribe macht ruhige und atmosphärische Musik. Sehr schön. Junius und City of Ships spielen harte Gitarren um die Wette. Will Butler gehört zu Arcade Fire und macht erwartungsgemäß gute Mukke. The Districts klingen wie Greylag und Greylag ist mega cool. Racing Glaciers wurden mir empfohlen, hören sich gut an.
Hier, Musik: