Es ist 23:33 Uhr und mein Nacken tut weh. Ich muss nach unten schauen, um das hier zu schreiben. Aber keine Sorge, es hat gute Gründe. Gnarwolves bringen kommende Woche ein neues Album raus und ich habe ihr heutiges Konzert sehr genossen. Ich habe sogar die Konzertbrille aufgesetzt, auch wenn ich am Ende nur mit mir selbst getanzt habe. Jetzt läuft gerade ihr neues Album im Hintergrund und ich kann euch sagen, dass kaum etwas mir mehr Energie verleiht als ein wirklich gutes Konzert. Der Akku ist wieder aufgeladen.
Letzte Woche habe ich mich über Marvel aufgeregt, über Hydra und Captain America. Und ich bleibe in gewissem Sinne dabei. Natürlich kann Hydra bei näherem Hinsehen nicht wirklich mit Nazis verglichen werden. Aber oberflächlich halte ich es für sehr leicht die beiden Sachen in einen Hut zu bringen. Und wenn es ein Ziel dieser verdammten Events ist neue Leute zu Marvel zu holen, dann ist diese oberflächliche Gemeinsamkeit sicherlich unschön, mindestens. Persönlich finde ich diese Art von kurzer Aufmerksamkeit und Aufregung unnötig. In der Beschreibung der Historie von Hydra, die sich übrigens mit "Heil Hydra" begrüßen, habe ich dieses kleine Juwel gefunden:
Upon building Hydra's army and arsenal to what he judged to be a maximum strength, Strucker blew the original Supreme Hydra, who was Japanese, and became Supreme Hydra himself.
Fand ich super.
Aber hey, Comics sind eine feine Sache und es geht darum die schönen Sachen im Medium zu sehen und die doofen zu zertreten. Also, wenn ihr das ganze Jahr über nicht in einen Comicladen gehen solltet (Schande über euch, selbiges gilt für Buchläden), dann geht doch diesen Samstag gleich in mindestens zwei. Es ist Free Comic Book Day! Blackdog macht auch jeden Fall mit. Der Grobe Unfug in der Torstraße glaube ich auch, aber die haben meines Wissens nach keine Bowle. Was gibt es da zu holen? Zwei kostenlose Comics! Und nach welchen solltet ihr Ausschau halten?
Hilda's Back FCBD (Luke Pearson)
Die Hilda Bücher sind irgendwo zwischen Kinderbuch und Comic und wunderschön anzuschauen. Luke Pearson kann auch wirklich traurige Sachen schreiben und zeichnen, Hilda gehört nicht dazu, dieser Comic ist sicherlich eine wahre Freude.
Ansonsten gibt es extra Versionen von Bad Machinery, Riverdale, Buffy, Attack on Titan und und und und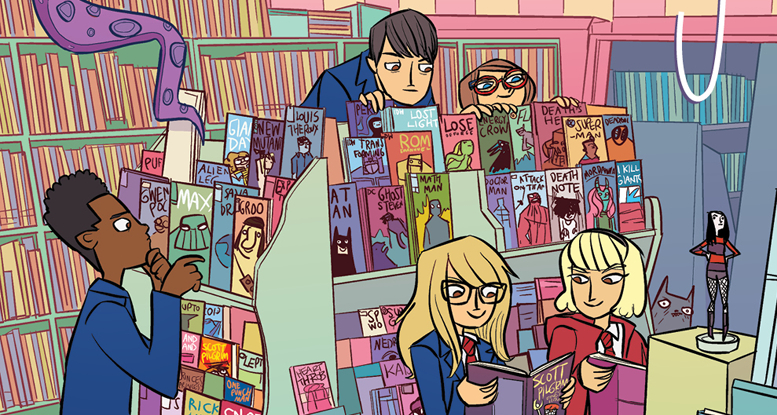 Wenn ihr dann eh schon im Modus seid was Geldausgeben angeht, dann schaut euch diese Sachen doch mal an:
Eternal Empire #1 (Sarah Vaughn & Jonathan Luna – Image Comics, $3,99) Ich finde den Stil gewöhnungsbedürftig, aber die beiden haben schon mit Alex & Ada bewiesen, dass sie kompetente Geschichten erzählen.
Goldie Vance #12 & TP02 (Hope Larson, Brittney Williams, Jackie Ball & Noah Hayes – Boom Studios, $3,99 & $14,99)
Brittany Williams zeichnet den Ongoing leider nicht mehr. Aber im Trade hatte sie noch ihre Finger im Spiel, eine wunderschöne Geschichte über Freundschaft und die Sehnsucht danach Astronaut*in zu werden. Die aktuelle Storyline ist auch sehr schön zu lesen, es ist immer schön wenn Rivalinnen ein Gesicht bekommen.
My Brothers Husband GN Vol1 (of 2) (Gengoroh Tagame – Pantheon Books, $24,95)
Tagame war vor diesem Buch eher für Hardcore Yaoi Manga bekannt. Wenn man sich die Previews anschaut, dann ist das logisch und verständlich. Muskeln. My Brothers Husband ist etwas anderes. Es geht um Familie, Coming-Out und um Menschlichkeit.
So. Denkt daran, Comics müssen idealerweise drei Monate im Voraus bestellt werden. Also redet mit Menschen in Comicläden oder mit mir, wir empfehlen gerne. Zum Beispiel The New World von Tradd Moore und Ales Kot. Verdammt sieht das wieder cool aus.