The Good
Letzte Woche war Free Comic Book Day. Es war eine feine Safari durch Berlin. Anschließend ging es zur Comicinvasion. Ich kann euch Samurai's Visual Journal sehr ans Herz legen. Wunderschön illustrierte Momente aus dem Leben eines inzwischen drei Jahre alten Jungen. Geeignet für Momente in denen der Mund eher nach unten zeigt. Außerdem ist es Zeit die Goldene Diskofaust in Richtung Himmel zu strecken. Natürlich waren noch viele weitere super Künstler*innen vertreten. Die Comicinvasion fühlt sich gut an. Danke an Black Dog Comics für Sushi und an den Groben Unfug für Großzügigkeit.
The Ugly
Ich kann jede Woche nur mehr Links zu diesem Haufen hinzufügen, der ganz schön stinkt und sich Secret Empire nennt. Inzwischen kann ich kaum noch etwas Gutes an der Sache finden. Rosie Knight schreibt über Symbolismus, Thors Hammer und Neo-Nazis. Nick Hanover nimmt die Art und Weise auseinander wie Marvel das Event kommuniziert und Lindsay Smith beschreibt den Captain den wir brauchen. Inzwischen ist es mir irgendwo egal ob Hydra "wirklich" Nazis sind. Diese Art von Vergleich mit realweltlichen Vereinigungen hinkt mir und erscheint mir eher als eine Entschuldigung für Ideenlosigkeit als ein wirkliches Argument. Ich halte diese Storyline für schlecht. Secret Empire ist für mich wertlos, giftig und eine Verschwendung. Die Artikel lese ich trotzdem gerne, weil andere Menschen klüger sind als ich und die Dinge deshalb besser beschreiben können:
The company would very much like you to be brushed aside by the industry for "overreacting," for not being patient and tolerant of intolerance. The last thing Marvel wants is scrutiny, particularly if it involves examining what benefits its Trump-affiliated billionaire CEO Ike Perlmutter might get from running a company that creates products that could be argued train consumers to submit to fascism.

As extreme as that may sound, all of the tactics Marvel uses to shut down criticism of its products are tactics fascists have utilized to cast doubt on their critics– the framing of opponents as the true villains, the adamant claims that their activities will yield positive results despite "temporary" nastiness, the consistent and aggressive harassment of anyone who speaks up. Marvel wants you to silence your qualms, to trust them when they say they are not doing the things you think they are doing, to simply give in to the program and see if you do not like the new status quo in the end. After all, what's the worst that could happen? Nick Hanover @ loser-city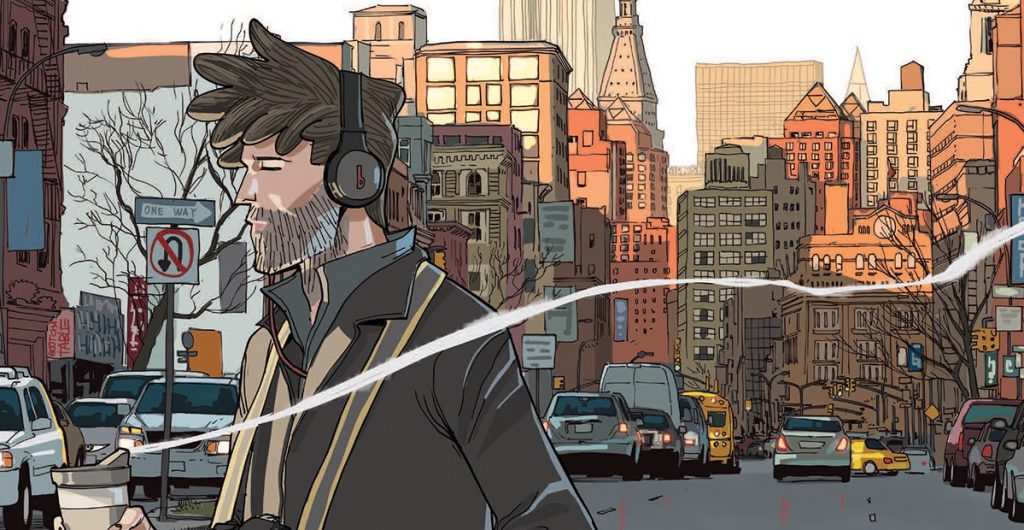 The List
Godshaper #2 (Simon Spurrier & Jonas Goonface – Boom Studios, $3,99)
Das erste Heft war eine wunderschön illustrierte und sehr starke Sache. Ich bin gespannt wo die Geschichte um persönliche Götter, queere Held*innen und diesen kleinen, coolen Typen mit den Hüten hinführt. Ich vertraue Spurrier.
Misfit City #1 (Kiwi Smiith, Kurt Lustgarten, Paulina Ganucheau & Naomi Franquiz – Boom Box, $3,99)
Eine Stadt mit mysteriöser Vergangenheit oder einfach nur einem Film der sie berühmt gemacht hat. Boom Box hat die Stories mit coolen weiblichen Charakteren gepachtet und macht weiter Comics für alle.
Mutiny Bay (Antoine Cosse – Breakdown Press, $22,50)
An dieser Stelle klaue ich von Broken Frontier, aber die fassen das so gut zusammen: An eerie character study wherein historical reality melts into an illusory otherworldliness, Antoine Cossé's Mutiny Bay takes a cast who are all lost on some level – whether they're lost in guilt, in purpose, in their dreams of the past, or in a more literal, forsaken sense – to create one of the most stirring, haunting and disquieting period comics you are ever likely to engage with.
The Sound of the World by Heart (Giacomo Bevilacqua – Lion Forge, $24,99)
Ein junger Fotograf entscheidet sich für 60 Tage nicht zu sprechen. Ein wenig romantisch, ein wenig magisch und ganz, ganz viel New York, dieses Büchlein klingt nach einer feinen Sache. Der Trailer zeigt die Illustrationen, die auch sehr gut aussehen.
SOUND OF THE WORLD BY HEART – 2017 trailer 720p FULL from Neurobellum on Vimeo.


Na? Kommt das irgendwie bekannt vor? Und dann so zu argumentieren halte ich für Schwachsinn. Steht dazu oder lasst es sein.
Wenn ich so drüber nachdenke, dann ist mir noch eine Sache wichtig. Die Darstellung und Thematisierung von rechts-extremen Material oder geschichtlichen Dingen ist nicht unwichtig, wenn sie reflektiert und mit entscheidend anti-rassistischer Botschaft daher kommt. Und eine solche Story, in der ein Symbol wie Captain America manipuliert wird, kann durchaus ihre Daseinsberechtigung haben. Aber dann bitte mit Absicht, mit fundierter Argumentation und ohne Bullshit. Dann kann ich sagen: "Diese Story ist nicht für mich und deshalb interessiere ich mich nicht weiter dafür." Dem gegenüber steht aber der Umgang mit dem Material, der schlecht gelungen, beleidigend und inkonsequent abläuft. Dafür ist mir das Medium zu wichtig, als das ich sowas damit assoziiert sehen möchte.