Es ist einfach dumme Dinge zu sagen oder zu machen. Die Kunst ist es den Fehler zu erkennen und dann darauf zu reagieren. Manche können das, Chris Pratt zum Beispiel. Andere setzen noch einen drauf. Damit geht eine andere Erkenntnis daher, alle machen sowas. Und auch wenn Image als Verlag bei mir zumindest immer noch hoch im Kurs steht, ist jetzt klar, dass auch die große Probleme haben, an denen sie arbeiten müssen. Augen auf auf Conventions. Menschen verdienen es gesehen zu werden.
Octopus Pie ist vorbei und auch wenn ich den Comic in letzter Zeit nicht mehr aktiv gelesen habe, verbinde ich doch schöne Erinnerungen mit diesem wunderschönen Werk. Meredith Gran hat mit diesem Comic eine unglaubliche Entwicklung durchgemacht. Es wird Zeit meine alten Topaco Ausgaben noch mal rauszuholen. Sloane Leong hat zeitweise die Farben für Octopus Pie gemacht, 2019 kommt ihr Comic A Map to the Sun via First Second.
Etwas Musik!
Adam West ist gestorben, R.I.P. und die amerikanische Library of Congress hat ein Webcomic Archiv gestartet. Gene Simmons möchte sich gerne die Rockerfaust/Hörner-Geste patentieren. Es kann nicht genug spannende Artikel über Wonder Woman geben, einmal eine kleine Historie und ein Besuch im Wonder Woman Family Museum. Ein Wiki Eintrag zu Xenomorphs dürfte neues beibringen und diese Karten von "Choose your Own Adventure" Büchern sind großartig.
PanelxPanel ist ein Online Zine über Comics. Das Line Up ist vielversprechend und das Lob unglaublich vielfältig. Das Wird ne feine Sache!
A Sun Came from Soren Hughes on Vimeo.
COMICS!
Crosswind #1 (Gail Simone & Cat Staggs – Image Comics, $3,99)
Gail Simone ist bei Image angekommen. Mal schauen wie das wird, es geht um Körpertausch a la Freaky Friday im Rahmen von James Bond und Hitman.
Head Lopper #6 (Andrew MacLean – Image Comics, $5,99)
Verdammt coolster vierteljählicher Abenteuercomic, wunderschön illustriert, simpel und angenehm zu verschlingen.
King Cat (John Porcellino – Alternative Comics, $5)
Cool aussehende Auto-Bio Comics. Bäm, done, no questions asked.
Abschluss
Unterstützt euren lokalen Comic Laden, die sollten diese Comics haben oder bestellen können. Gönnt euch was schönes, ich habe gehört Eis soll ganz gut sein. Das Bild ganz oben ist übrigens mein internes Bild von Wonder Woman. Ich weiß nicht ob das durch den Film ersetzt werden kann, so cool wie da oben kann sie kaum noch werden. Und wenn ihr Lust habt, dann sagt doch mal ob oder wie euch der Weekly Planet so gefällt. Genießt den Ausblick.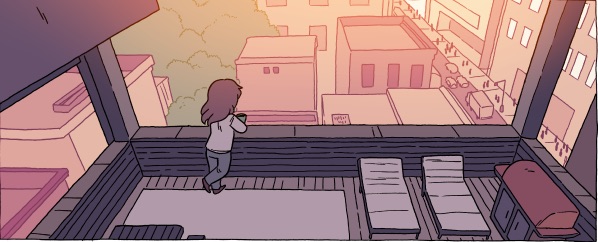 Bilder sind von Cliff Chiang und Meredith Gran, plz don't sue us. <3