Someone is late
no opera is sung today
nobody is singing
there is no confession
the library is closed
are the babies at the nursery?
is the gallery open today?
is someone at the exhibition?
the weather is light rain
and it isn't going to rain.
Is ne Weile her oder? Das "Gedicht" stammt von einem Algorithmus der die Daten der Stadt Manchester für seine Zwecke benutzt. Hat was oder? Zadie Smith schreibt über "Get Out", einen Film den ich sehr gerne sehen möchte und der einer der erfolgreichsten Filme des Jahres ist. An anderer Stelle überzeugt The Nib mal wieder auf ganzer Linie. Achtung, Tangente, ich habe das via Mukerherjees Buch "The Gene" gelernt, Eugnik kommt aus den USA. Die Deutschen haben das nur mal wieder übertrieben.
Es wurden Milkshakes verteilt, Menschen aus ihren geliebten Blasen vertrieben und ich habe zum ersten Mal andere auf Twitter geblockt. Hat sich gut angefühlt. Für wen sind Comics eigentlich? Und wie kann es sein, dass die Menschen die Comics so hoch halten schnell ihre weißen Mitmenschen unterstützen, aber andere im Regen stehen lassen?
Zoe Quinn hat ein Buch geschrieben, ich würde es gerne lesen. Das bedeutet, dass es ein paar Profile zu lesen gibt, eins ist das hier. Immer noch ein faszinierende Person und eine frustrierende Angelegenheit. Übrigens ist die Videospielindustrie manchmal sehr viel schneller, wenn es darum geht schlechte Menschen loszuwerden. Boah ist das ecklig. Zum einen solche Dinge über oberflächlich sympathische Menschen zu erfahren und zum anderen zu sehen, wie sich Menschen darüber zerreißen. Comics sind Schnecken, wenn es darum geht als übergriffig bekannte Personen loszulassen.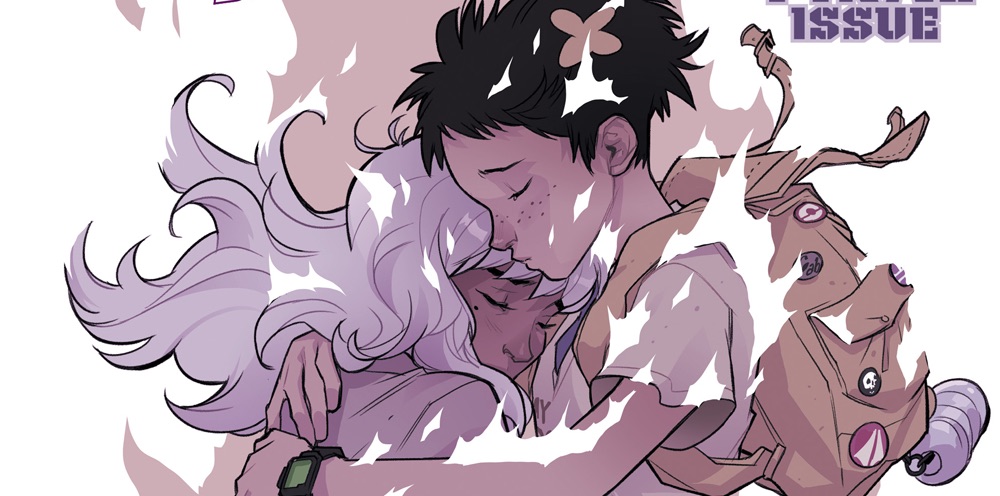 Deutschlandfunk Kultur über deutschsprachige Comics, Vanity Fair über eine ehemals große Comicmesse und Rebecca Solnit übers Wandern und Bibliotheken, es gibt viel zu lesen und Bibliotheken gilt es auch mal wieder zu besuchen. Ich mag es durch die Stadt zu wandern, auch wenn ich hier schon seit ewig lebe sehe ich immer wieder neue Sachen. Und es gibt was zu Essen unterwegs, klarer Vorteil gegenüber der freien Natur.
Hier sind eine Menge cooler Metal Alben und Nine Inch Nails haben eine neue EP.
Noch einmal Comics, wie das wohl ist die Zahlen für das erste Heft einer neuen Serie zu bekommen und [enttäuscht](Joining The Fray: Yes, Rich Tommaso's Work Should Be Selling Better – COMICON) zu sein? Amerikanische Comics haben ein PR Problem, ein "direct Market" Problem und und und – wie sieht es da eigentlich in Deutschland aus? Kennt sich da jemand aus? Gimme! Ich habe Hanselmanns Comics nie wirklich verstanden, aber es auch nicht wirklich versucht. Wertvoll erscheinen sie wohl doch manchmal. Diese Vielfalt ist unglaublich wichtig und es gibt kein Argument gegen diverse Autor* innen, Inhalte oder Held* innen. Wo wir gerade dabei sind, es gibt weit aus mehr weibliche Sci-Fi Autoren als der Mainstream behauptet. Und bitte, bitte erinnert mich nicht an die Dragon Awards, wenn ihr Frust und Trauer erleben wollt, dann googelt das selbst. Um die Stimmung wieder aufzuhellen, hier sind eine unglaubliche Menge Frauen die schönste Kunst machen.
So. Comics?
Redlands #1 (Jordie Bellaire & Vanesa Del Rey – Image Comics, $3,99)
Hexen, Horror und ein fantastisches Team, das kann ziemlich verdammt gut werden. Schaffe ich es tatsächlich einen Horror Comics länger zu lesen? Ich werde schnell auf Grund von Angst und dergleichen vertrieben…
Pantheon SC (Hamish Steele – Nobrow Press, $22,95) Humorvolle und sehr freie Erzählungen aus dem alten Ägypten. Allein das Cover ist das Geld sicherlich wert. Und es soll wohl kämpfende Hippos geben. SOLD!
Gotham Academy Second Semester #12 (Brenden Fletcher, Becky Cloonan, Karl Kerschl, Adam Archer, Sandra Hope & Msassyk – DC Comics, $3,99)
Ein wunder, wunderschönes Cover und sicherlich ein bittersüßer Abschied. Maps und ihre Kumpanen waren etwas einzigartiges und ein wichtiger Schritt in die richtige Richtung. Bitte noch mehr davon DC.
Bis nächste Woche dann. Achtet auf euch selbst, mal nach draußen zu gehen, schwimmen oder so, das kann sehr gut tun. Die Anna Kendricks Bio ist unterhaltsamer als gedacht, also vielleicht da anfangen?