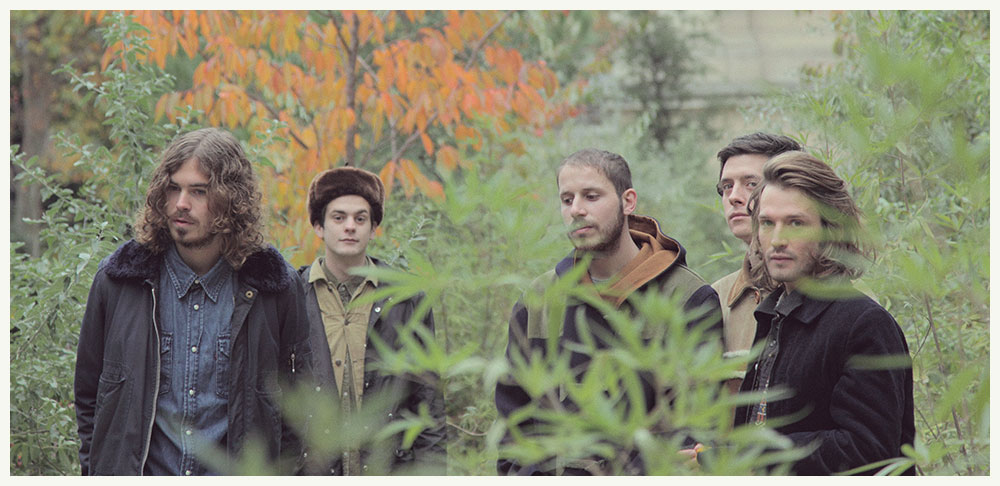 Ich mag das Michelberger Hotel. Es ist gemütlich, der Kaffee schmeckt gut und diese eine Ecke ist für Interviews relativ gut geeignet solange wie die Musik im Hintergrund nicht zu laut ist. Es gibt auch einen Whiskey Room, aber der war verschlossen. Auch okay, Natals Loves You waren ordnungsgemäß verkatert. Was eine Nacht in Berlin eben mit einem macht.
Die Jungs waren super. Danke für den Kaffee!
Hier sind meine Lieblingszitate aus dem Interview:
Über den Wunsch nach einfacheren Texten und Themen:

"The fact that we were young guys and we're past adolescence and now we're trying to be men. As young musicians it's kind of hard to find a balance for other things in your life and I think that's why we are talking about these things all of a sudden, because we are like okay how does this work? and I think we are realising the image that people have of you and I think all of these things are starting to make us come back to more simple things."
Über das Album "The 8th Continent":
"We came up with this concept three or four years ago and I think we HAD to talk about this in our lives, we had to. We were young teenagers becoming men who just came into one of the biggest cities in the world. And we just needed to talk about how we felt you know? We felt like things were different and I think we had to talk about these realisations and these issues that were attacking us as we came out of adolescence and now we have talked about it. We don't need to do that again and I think our vision of songwriting and music in general has evolved a little bit and now, if I wanna do a song about a girl, well I'll do a song about a girl."
Zusätzlich haben wir uns über Rap, zerstörerische Unterwäsche und so einiges mehr unterhalten. Nach dem Interview solltet ihr ordnungsgemäße Natas Loves You Experten sein, euch das Album besorgen und so richtig abtanzen.