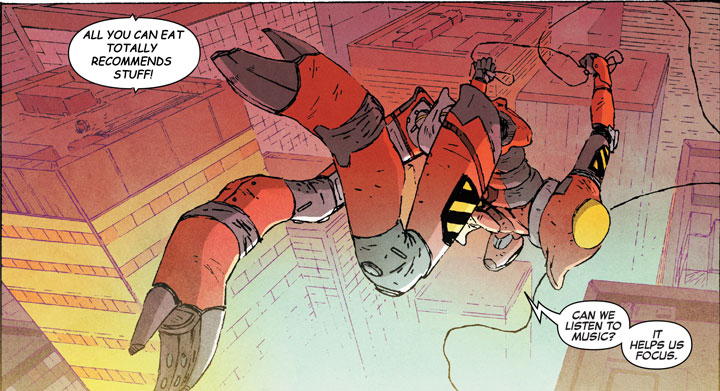 Das neue Jahr bringt neue Vorsätze. Und neue Musik. In dieser Ausgabe von "Die Jukebox spielt" gibt es alte und neue Musik, Rap, Rock und Pop. Viel Spaß beim Eintauchen!
American Football ist eine dieser Bands die alt sind, lange weg waren, aber einen unglaublichen Einfluss auf alles andere hatten. Und dieses relativ neue Video zeigt warum. Da klimpert die Gitarre und der Gesang führt langsam durch die Sommerliebe, die von Anfang an zum Scheitern verurteilt scheint. Das Video gibt dem Song Kontext, in Richtung Story aber auch zur Umgebung in der der Song wahrscheinlich entstanden ist.
Saintseneca ist eine Band die ich bis vor 3 Tagen gar nicht kannte. Das Album Dark Arc befindet sich noch nicht in meinem Besitz, ich arbeite dran. Aber wenn ich das so höre, dann wird es nicht lange dauern bis auch dieses Kollektiv in meinem Zimmer erklingt. Einer von denen spielt auch bei den Tidekicks, die am 20. Januar ihr nächstes Album veröffentlichen.
Düster und traurig, so ist das Album bis jetzt. Deshalb hab ich es glaube ich auch angemacht. OHNOIMLATEFORSCHOOL, ein wundervoller Blog voller toller Musik, empfiehlt immer wieder Musik und heute war das hier dabei.. Da konnte ich nicht nein sagen und jetzt ist es vorbei und diese Stille darf nicht lange anhalten. Schön wars.
Bei Already Heard gibt es eine Liste von 50 Bands die man 2015 im Auge behalten sollte. Ein paar kannte ich schon, Beach Slang und Toundra zum Beispiel. Der Rest war neu und der erste Song der mich absolut weg gefegt hat, ist von The Color and Sound und heißt Gregory. Diese Art des Gesangs, Chorartig, Gang Vocals trifft es wohl eher, ist immer was für mich. Genau wie Trompeten. Die gibts hier aber leider nicht.
Auf einem weiteren Blog ist mir diese Kleinigkeit untergekommen. Momentan fasziniert mich eh alles was mit Weltraum zu tun hat und Space Museum hat da perfekt gepasst. Besagter Blog ist auch dafür verantwortlich, dass ich Terrible Feelings entdeckt habe. Dafür bin ich immer noch dankbar.
Die Terrible Feelings haben für 2015 ein neues Album angekündigt. Titel und Track List stehen wohl schon und bei Facebook kann man eine Test Pressung bewundern. Das hier ist aber Seguwita. Hättet ihr gar nicht bemerkt oder?
No Love, die EP ist kostenlos und ein kleiner, feiner, roher, punkiger Kracher. So einer mit angenehm langer Zündschnur und befriedigendem Knall am Ende.
Dänischer Rap, das war 2013 die einzige Band die ich beim SPOT gesehen hab, die die Menge so richtig zum kochen, mitsingen und tanzen gebracht hat. 2014 waren das lustiger Weise Fuck Art Let's Dance. Weiterer Rap aus Dänemark kommt von Point Blank, da wird allerdings auf Englisch gerappt. Deren Album ist irgendwie untergegangen in meinen Augen. Die kostenlosen EP's bei Bandcamp sind aber Spenden wert!
Wo wir gerade beim Rap sind. Dieses Mixtape haut mich jedes Mal wieder von den Füßen, warum weiß ich nicht genau, es passt einfach. Es klingt alt, die Reime passen und der Beat passt meistens genau auf meine Gehgeschwindigkeit.
Was läuft bei euch so? Sowas? Oder doch eher sowas? Sagt an!
Die Jukebox spielt is eine regelmäßige Vorstellung von Musik aller Art. Viel Krams, durcheinander, hauptsache gut.