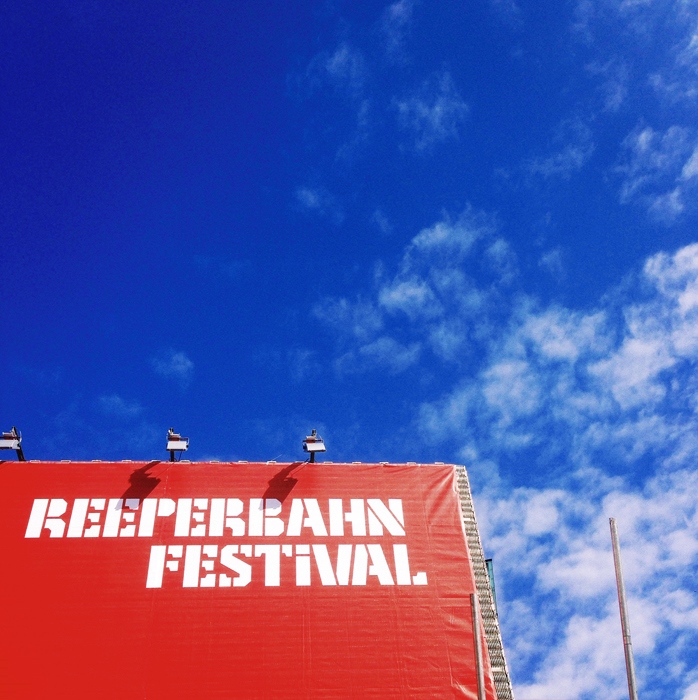 Bild gestohlen von Ruhmsucht und Henry Laurisch. Bitte killt mich nicht, das Bild ist einfach zu schön!
Fast genauso schön wie das Festival selbst. Aber jetzt ist es auch schon wieder zwei Monate her und beinahe vergessen. Grund genug nochmal die Interviews rauszukramen, jetzt wo sie alle beisammen sind.
Blaue Blume haben mich überrascht. Es war sehr angenehm mit Robert und Soren zu reden. Das Konzert war komplett anders als erwartet und wirklich gut. Nicht, das ich ein schlechtes Konzert erwartet hätte, aber als ich sie das letzte Mal gesehen habe, beim SPOT, da war das eine gänzlich andere Angelegenheit. Es war richtig gut. Leider musste ich früher weg um die nächste Band zu erwischen…
God Damn
An einem so kuscheligen und gleichzeitig unangenehmen Ort hatte ich bist dahin noch keine Interview gemacht. Erste Hoffnungen auf Wiese wurden von schlechtem Geruch und Müll vertrieben, aber ein Stein am Straßenrand war genau richtig. Dann eben eine halbe Stunde mit den beiden über ihre Musik und alles andere palavert und am Ende beim Konzert kräftig den Kopf geschüttelt.

The White Album
Das erste Interview auf dem Gartendeck. Schöne Menschen, ein schönes Interview und ein wundervolles Konzert. The Quiet Strum, das aktuelle Album, ist verdammt gut.
Greylag
Mir gings beschissen an diesem Morgen. Schlecht geschlafen und schlechter gegessen. Und dann saß ich in einem gemütlichen Sessel, direkt gegenüber von der Band und mein Rücken meinte es wäre uncool ein Mikrophon in den Armen zu halten. Das Interview selbst war sehr angenehm. Das Debüt-Album von Greylag ist übrigens der Knaller.

Mutiny on the Bounty
Das Interview mit Mutiny war das einzige in deutscher Sprache. Angenehm, vielseitig und unterhaltsam. Das Album kommt im Frühjahr und ich ärgere mich immer noch, dass ich das belgische Bier verpasst habe. Großer Fehler.

Es war von vorne bis hinten eine große Freude mit diesen Menschen zu reden. Ich habe unglaublich viel gelernt, viel gelacht und gut gegessen. Vielleicht höre ich irgendwann auf das Gartendeck zu loben, aber zeitnah sollte das nicht passieren. So ein wunderschöner Ort und perfekt für Interviews.