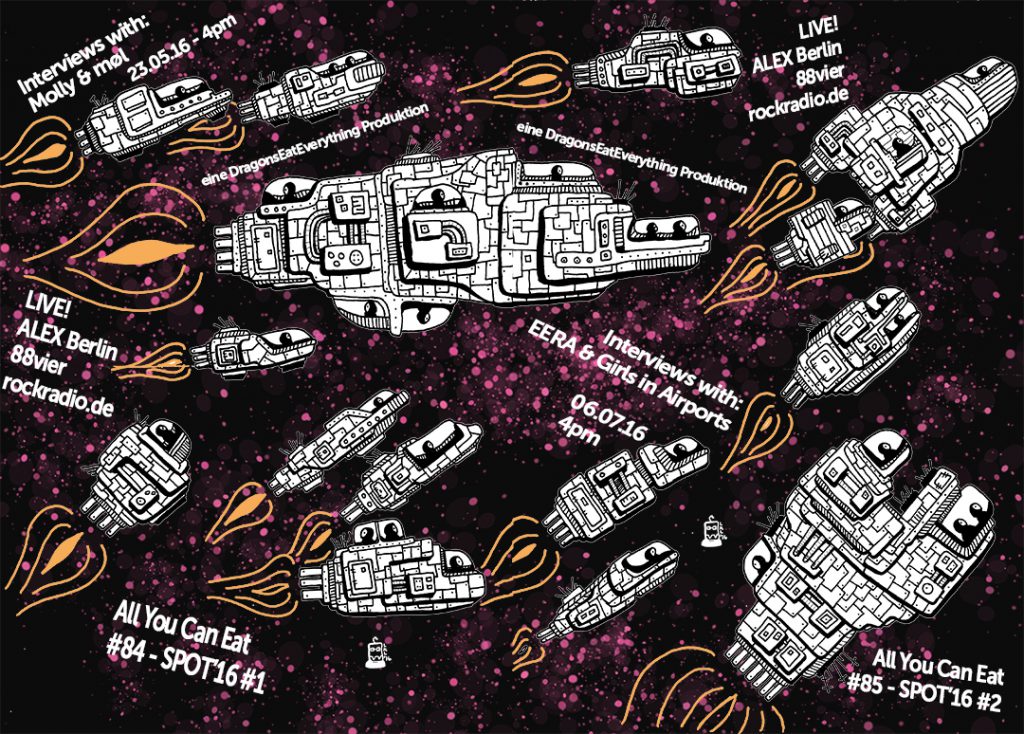 Hier ist alles was im Rahmen des SPOT Festival 2016 bei All You Can Eat entstanden ist:
Interviews:
Molly

Møl

EERA

Girls in Airports

Shows:
AYCE #84 – SPOT 2016 01

AYCE #85 – SPOT 2016 02

Fazit?
Das SPOT Festival ist für mich ein Highlight des Jahres. Diesen Satz habe ich in den letzten Wochen oft gedacht und geschrieben und dann meistens nichts weiter damit getan. Das könnte daran liegen, dass mir das SPOT Festival jedes Jahr einen großen Spiegel vorhält, indem es mich aus meiner kleinen Berliner Blase rauszieht und in die große weite Welt der Musikindustrie wirft. Hier wissen alle wie alles läuft, alle kennen alles beim Namen und alle wissen wo von sie reden. Und ich stehe daneben, als ob ich noch nie etwas von Musik gehört hätte und versuche mich nicht winzig zu fühlen, mit meiner kleinen Radioshow, die niemand zu hören scheint. Das SPOT Festival kramt das Imposter Syndrom aus und hängt es ganz groß an die Wand.
An Stelle von großem Leid und blah blah blah, soll es hier aber um das Festival gehen. Als eines der größten Showcase Festivals im nordischen Raum ist das SPOT Festival eine große Bühne für jede Art von Band, die gerne den großen Schritt machen will. Alle anderen machen ihr Ding ohne SPOT Festival. Der Auftritt beim Festival sei schon sehr wichtig, man gebe sich hier halt richtig Mühe erfahre ich im møl Interview. Für andere Bands ist das SPOT Festival einfach ein Band Camp, wo sich alle treffen, die sich lange nicht gesehen haben.
Neben den Interviews geht es natürlich auch um Konzerte. Davon habe ich dieses Jahr nicht so viele gesehen wie in den Jahren davor. Das lag wohl an meinen Regeln für dieses Jahr:
Do not rush. Stay relaxed. Be firm.
Prepare concrete questions beforehand.
Finish concerts that you enjoy and don't waste time on shows that you don't like.
Do your own thing and don't follow others around all the time. Stay comfortable.
Pack a lunch.
In den letzten Jahren bin ich viel hin und her gerannt, habe mir mal zehn Minuten hier und zehn Minuten da angeschaut und deshalb auch viel gesehen. Dieses Jahr habe ich jedes Konzert zu Ende mitgemacht. Und demnach auch weniger gesehen. Angeschaut habe ich in diesem Jahr:
Mimas, Jaerv, Velvet Volume, Lew, The Awesome Welles, ARY, VIEW, Guns, Hisser, Cabal, Liima, Møl, Konni Kass, EERA, Mames Babegenush, Dance with Dirt und zu meiner unglaublichen Erheiterung und der Trauer Anderer die Citybois zum Abschluss. Von diesen Konzerten sind mir nicht alle in Erninnerung geblieben und so lange ist das nun wirklich nicht her. Wirklich empfehlen möchte ich an der Stelle zum Beispiel ARY. Mir hat sie gut gefallen, aber die Tatsache, dass sie den Menschen der neben mir stand absolut den Verstand geraubt hat, ist ausschlaggebend. Der Mann hat sich gar nicht mehr eingekriegt. Guns waren gut, Konni Kass war gut, Lew ebenso, auch EERA, Mames Babegenush und Dance with Dirt haben großen Spaß gemacht. Velvet Volume hat die meisten Köpfe verdreht und die ganzen Musikmenschen im Kreis drehen lassen.
Vielleicht fällt auf, dass hier zwei Sachen fehlen. Ich habe dieses Mal zum ersten Mal Bands interviewt die ich auf dem Festival nicht auch live gesehen habe. Beide Male weil ich nicht mehr rein gelassen wurde. Sowohl Girls in Airports als auch Molly haben ihre Hütten so voll bekommen, dass niemand mehr rein durfte. Passiert. Neben den Bands die ich sehen durfte, wurden mir natürlich auch eine Menge empfohlen. Da wären Electric Elephant, Wangel, The Hearing, Kentaur und Lumen zu nennen. Viel zu tun in nächster Zeit.
Am Ende bleibt der Dank an Factory 92, die mich zum wiederholten Male mitgenommen haben. Außerdem Dank an die Citybois Crew, die mich zum OFF SPOT entführten und mit denen die Nacht zum Tag wurde. Und natürlich großen Dank an die Bands, die sich mit mir unterhalten haben und an die, die sich noch an mich erinnern. Bis zumnächsten Jahr.