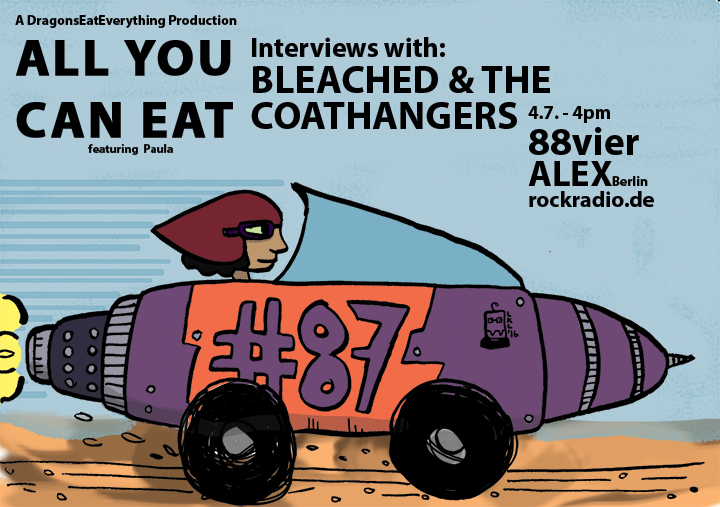 Zwei feine Interviews in einer feinen Sendung mit zwei feinen Moderator*innen. Selbstlob stinkt aber stolz auf die Sendung bin ich trotzdem. Bleached haben ein super Interview im Backstage vom Musik & Frieden gegeben, bei dem Paula so manches aus den Mädels rausbekommen hat. Sie haben von der Wüste erzählt und die Produktion ihres aktuellen Albums beschrieben.
Zusätzlich habe ich vor einiger Zeit zwei von drei Coathangers interviewen dürfen. Neben Foto-Posen und Überlegungen zur Midlife-Crisis und College haben wir darüber geredet, dass die Band nicht mehr ganz so wütend ist. All das und mehr gibts in der 87. Sendung All You Can Eat!
Playlist:
Bleached – Keep on Keeping on, Wasted on You & Sleepwalking / Album: Welcome the Worms
The Coathangers – Nosebleed Weekend, Squiki Teeki & Copycat / Album: Nosebleed Weekend
Interview mit The Coathangers (Englisch)

Interview mit Bleached (Englisch)

Die coole Stimme im Opener gehört Salwa Houmsi.